RESTAURANT
Apart from using only the best ingredients and our secret marinating recipe, the old-style charcoal grill makes our steak so juicy, delicious & irresistible.
If you're not a steak-lover, we also serve equally tasty dishes from Grilled Lamb Rack to Lobster Thermidor.
With decades of excellence you will have to try for yourself & get the best night at Neil's Tavern.
Menu List

New Menu

Starter

Main Course
Side Dish
Set Lunch

Wine
Starter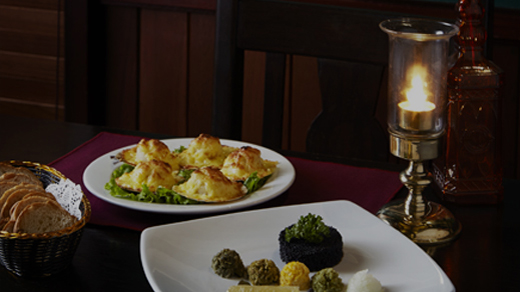 Appetizer
Pan Seared French Foie Gras  890
(slightly rare – inside) with fruits, balsamic & raspberry sauce
US Scallop with truffle sauce  780
Smoked Breast of Duck  290
with green apple & cranberry sauce
Escargot  480
(French style, with garlic & clove)
Baked Rock Lobster  410
with white wine cream sauce on avocado
Shrimp Avocado 360
with balsamic vinaigrette

Deep Fried Shrimp  320
with bread crumb
Saute Mushroom   280
with herb

Black Cavier  495
(Swedish)
Smoked Salmon  495
(imported sliced)
Chicken Liver on Toast  280
Baked U.S. Scallops  490
with cheese (au gratin)
U.S. Scallop Rockefeller  490
with spinach, bacon & cheese
Baked Oyster  490
(3 pcs.) with morney sauce & cheese
Oyster Rockefeller  490
(3 pcs.) with spinach, bacon & cheese

Smoked Oyster  490
(3 pcs.)
Baked Australian Mussels   320
with cheese (au gratin)
Baked Australian Mussels   350
with morney sauce & cheese
Baked  Australian Mussels   320
with garlic sauce
Smoked Australian Mussels   320
Steamed Australian Mussels   320
with onion, butter & cognac
Australian Mussel Rockefeller  350
with spinach, bacon & cheese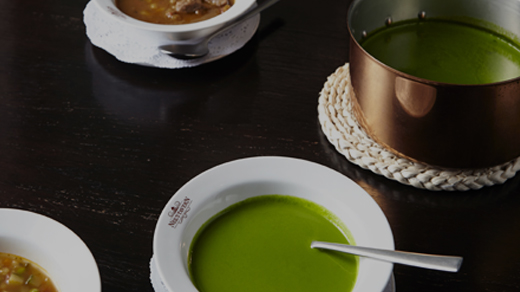 Soup
Lobster Bisque  300
Ox Tail Soup  280
Hungarian Beef Goulash Soup  280
French Onion Soup  310
with cheese
Clam Chowder  280
(New England creamy style)
Cream of Crab Chowder  290
with balsamic vinaigrette
Cream of Lobster Chowder  300
Cream of Shrimp Chowder  280
Chicken Soup  280
(clear or creamy)
Asparagus Soup  280
(clear or creamy)
Mushroom Soup  280
(clear or creamy)
Minestrone Soup  280
(Italian vegetable soup)
Cream of Corn  280
Cream of Spinach  280
Cream of Tomato  280
Main Course
Meat
Imported Meat. All charcoal grilled
IMPORTED FROM AUSTRALIA
Truffle  Steak  1750
Filet of steak with truffle sauce
French Foie Gras  Steak  1820
Filet of steak with red wine sauce topped with seared foie gras
Steak A La Neil  1490
Filet of steak with red wine sauce
Anchovy Steak  1490
Filet of steak topped with anchovies & anchovy butter
Filet Mignon  1450
Filet of steak wrapped with bacon, gravy served upon request
Pepper Steak  1450
Filet of steak with pepper sauce
Tenderloin Steak  1450
Filet of steak, gravy served upon request

T-Bone Australian Wagyu Steak (MBS 4/5)   (480 gm)  2390
40-Day Dry Aged Australian Wagyu(MBS 4/5)    5990/kg
Australian Wagyu Striploin (MBS 6/7)  Center Cut (350 gm) 2590, First Cut  (350 gm) 2090
Kobe Striploin Steak  2700 up
Our best selected Kobe beef from Japan
U.S.D.A. Prime Corn-Fed  Rib Eye (350 gm)  2300
Boneless with little fat
Australian Racks of Lamb  1350
3 pcs. with cranberry sauce
Australian Danish Blue Racks of Lamb  1350
3 pcs. topped with blue cheese
Australian Racks of Lamb (3 pcs)  1350
IMPORTED FROM AUSTRALIA
Roquefort Steak  1450
Filet of steak with blue cheese
Deluxe Combination  2550
Our excellent combination of Phuket lobster (half) & filet of steak with red wine sauce
Smoked Combination  1750
Smoked both King prawn & filet of steak
Steak & Fried King Prawn  1800
Filet of steak & deep fried king prawn with bread crumb

Minute Steak  1150
Pan fried four pieces of steak with butter & sherry
Mixed Grill  1290
Lamb, beef, pork & chicken
IMPORTED FROM AUSTRALIA
Beef Brochette with bacon  1050
Beef Stroganoff  950
Served with pasta & vegetable only, no salad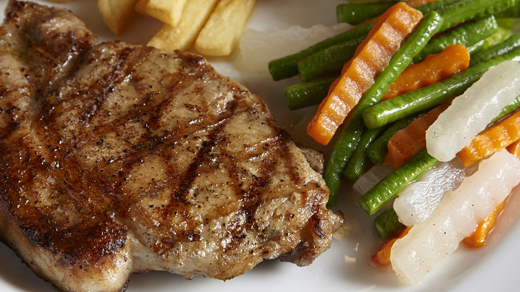 Pork
Barbecued Spareribs  750
Grilled Organic Pork Loin Steak  750
with spicy herbs
Grilled Pork Loin Steak  1050
with truffle sauce
Grilled Pork Loin Steak  795
topped with cheese cream source
Barbecued Pork Loin Steak  750
slightly sweet & sour
Deep Fried Pork Loin Steak  750
with bread crumb
Grilled Pork Loin Steak  750
served with preserved fruits
Teriyaki Pork Loin Steak  750
(Japanese soy sauce, slightly sweet)
Duck & Chicken
Slow Cooked Duck Confit  880
with cranberry sauce
Duck Breast  880
with orange sauce
Grilled Chicken with Truffle Sauce  1020
Barbecued Chicken  720
slightly sweet & sour
Grilled Chicken  795
topped with cheese cream sauce

Deep Fried Chicken  720
with bread crumb

Grilled Chicken  720
with butter
Teriyaki Chicken  720
(Japanese soy sauce, slightly sweet)
Seafood
PHUKET LOBSTER (S 2,850 M 3,150 L 3,750)
Baked Phuket Lobster
with cheese (au gratin)
Baked Phuket Lobster
with pernod sauce, mushroom & cheese
Smoked or Grilled Phuket Lobster
with butter
Phuket Lobster Thermidor
with mushroom  & cheese
Steamed Phuket Lobster
with anoin, butter & cognac
SEAFOOD COMBINATION  for 1 person
Seafood with Neil"s chili sauce  1380
King prawn, US scallop & French snow fish
Deep Fried Seafood with bread crumb  1350
King prawn, rock lobster, cuttlefish, mussels & fish
Smoked or Grilled Seafood with butter  1350
King prawn, rock lobster, cuttlefish, mussels & fish

Steamed Seafood with onion, butter & cognac  1350
King prawn, rock lobster, cuttlefish, mussels & fish
KING PRAWN & CRAB
King Prawn & Escargot with clam-garlic sauce  1590
King Prawn  1190
with Neil's cajun spicy sauce
Grilled King Prawn  1190
with spicy seasoning herb
Deep Fried King Prawn  1190
with bread crumb
Smoked or Grilled King Prawn  1190
with butter
King Prawn Thermidor  1190
with mushroom  & cheese
King Prawn  1290
with white wine cream sauce
Steamed King Prawn  1190
with Onion, butter & cognac
Crab Thermidor with crispy tortilla  1050
ROCK LOBSTER (3 Pcs per order )
Rock Lobster  960
with Neil's cajun spicy  sauce
Grilled Rock Lobster  960
with spicy seasoning herbs
Baked Rock Lobster  960
with cheese (au gratin)
Deep Fried Rock Lobster  960
with bread crumb
Smoked or Grilled Rock Lobster  960
with butter
Rock Lobster  990
with white wine cream sauce
Rock Lobster Thermidor  960
(2 pcs.) with mushroom & cheese
Steamed Rock Lobster  960
with onion, butter & cognac
Fish
SNOW FISH FROM FRANCE 
Grilled Filet of Snow Fish with truffle sauce  1550
Filet of Snow Fish   1250
with Neil's cajun spicy  sauce
Grilled Filet of Snow Fish  1250
with spicy seasoning herbs
Steamed Filet of Snow Fish  1270
with citrus – soy sauce, ginger & avocado
Grilled Filet of Snow Fish  1270
with prawn sauce
Filet of Snow Fish  1270
with white wine cream sauce
Grilled Filet of Snow Fish  1250
with lemon sauce
Grilled Filet of Snow Fish  1250
with garlic cream sauce
Smoked or Grilled Filet of Snow Fish  1250
with butter
Grilled Filet of  Sea Bass  800
with garlic cream sauce
Smoked or Grilled Filet of  Sea Bass  800
with butter
Filet of  Sea Bass  800
with Neil's cajun spicy  sauce
TROUT FROM DENMARK / SALMON FROM NORWAY
Smoked or Grilled Whole Trout  930
with butter
Whole Trout  960
with white wine cream sauce
Grilled Salmon Steak  860
with white wine cream sauce
Grilled Salmon Steak  830
with garlic cream sauce
Smoked or Grilled Salmon Steak  830
with butter
 TUNA  &  SEA BASS FROM LOCAL
Pan Seared Poppy Seed Coated Tuna Steak  780
with wasabi cream sauce
Grilled Filet of  Sea Bass  800
with spicy seasoning herbs
Grilled Filet of  Sea Bass  830
with prawn sauce
Filet of  Sea Bass  830
with white wine cream sauce
Grilled Filet of  Sea Bass  800
with lemon sauce
Filet of Sea Bass with Neil's cajun spicy sauce  800
Smoked or Grilled Filet of Sea Bass with butter  800
Side Dish
Salad
Caesar Salad  M 235  L 290
House Salad  100
-Dressing-
 honey mustard, Italian, clear French, hot French, garlic French, thousand island, blue cheese, vinaigrette, mayonnaise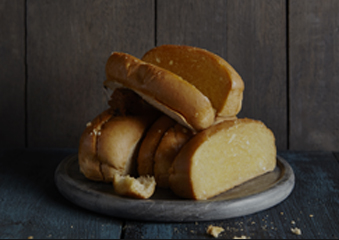 Bread
Garlic Bread or Roll  40
with butter
Sliced French Garlic Bread  65
Side Order
Green Pea  95
Fresh Mushroom  95
Fresh Asparagus  95
Additional Daily Vegetable & Potato  95
Baked Spinach with Cheese  210
Set Lunch
MENU  ( B 550++  –  B 900++)
(select 1 for each course)
Cream of Mushroom Soup
Deep Fried Shrimp with Bread Crumb
Mixed Salad with Dressing
___________________
Smoked Salmon Steak (B 550 ++)
Grilled Pork Loin Steak with spicy herbs (B 550++)
Australian Tenderloin Steak (B 900 ++)
Minute Steak with butter & sherry (B 750 ++)
Beef Brochette with bacon (B 750 ++)
Beef Stroganoff  served with pasta (B 550 ++)
Carbonara Penne with ham ( B 550 ++)
(all served with garlic bread or roll)
___________________
Choice of Cake
(Coffee raisin, choc brownie, prune cake)
___________________
Coffee / Tea
MENU ( B 450 ++ )
(select 1 for each course)
Cream of Corn Soup
Clam Chowder (New England Style)
Mixed Salad with Dressing
___________________
Teriyaki Pork Loin Steak
Grilled Filet of Sea Bass with spicy herbs
Spaghetti with Australian Beef Tomato Sauce
Spaghetti with Chicken Tomato Sauce
(all served with garlic bread or roll)
___________________
Pineapple or Matoom Pie
___________________
Coffee / Tea
Set Lunch
Set Lunch A
MENU  ( B 550++  –  B 900++)
(select 1 for each course)
Cream of Mushroom Soup
Deep Fried Shrimp with Bread Crumb
Mixed Salad with Dressing
___________________
Smoked Salmon Steak (B 550 ++)
Grilled Pork Loin Steak with spicy herbs (B 550++)
Australian Tenderloin Steak (B 900 ++)
Minute Steak with butter & sherry (B 750 ++)
Beef Brochette with bacon (B 750 ++)
Beef Stroganoff  served with pasta (B 550 ++)
Carbonara Penne with ham ( B 550 ++)
(all served with garlic bread or roll)
___________________
Choice of Cake
(Coffee raisin, choc brownie, prune cake)
___________________
Coffee / Tea
Set Lunch B
MENU ( B 450 ++ )
(select 1 for each course)
Cream of Corn Soup
Clam Chowder (New England Style)
Mixed Salad with Dressing
___________________
Teriyaki Pork Loin Steak
Grilled Filet of Sea Bass with spicy herbs
Spaghetti with Australian Beef Tomato Sauce
Spaghetti with Chicken Tomato Sauce
(all served with garlic bread or roll)
___________________
Pineapple or Matoom Pie
___________________
Coffee / Tea
Wine
Red Wines
FRANCE
Chateau Rolland-Mallet, St.Emillion Grand Cru
Reseve Mouton Cadet Medoc, Baron Philippe de Rothschild
Chateau Sainte Marie, Bordeaux Superieur
Mouton Cadet Bordeaux Rouge, Baron Philippe de Rothschild
Attitude Pinot Noir, Pascal Jolivet
Berger Baron, Bordeaux Rouge
CALIFORNIA
Oakville Cabernet Sauvignon, Robert Mondavi
Caymus, Napa Valley Cabernet Sauvignon
Lodi Zinfandel, Ravenswood
Cabernet Saubignon Private Selection, Robert Mondavi
Cabernet Saubignon, Rocky Creek
Australia
Shiraz, Leasingham Bin 61
Twins Barossa Shiraz, Maverick
Twins Barossa GSM, Maverick
Cabernet Sauvignon/Merlot, Madfish Sideways
Houghton, Cabernet Sauvignon
Shiraz, Banrock Station
Cabernet/Shiraz, Nottage Hill
Chile
Montes Alpha M, Santa Cruz
Montes Purple Angel Carmenere
Escudo Rojo, Baron Philippe de Rothschild
Alpha Cabernet Sauvignon, Montes
Limited Selection Pinot Noir, Casablanca and Leyda Valleys, Montes
Mapu Reserva Cabernet Sauvignon, Baron Philippe de Rothschild
Italy
Monte Faustino Valpolicella Superiore Ripasso DOC
Thai
Heritage Syrah, Granmonte 2010
White Wines
FRANCE
Pouilly Fume
Loire Valley
Pascal Jolivet
ITALY
Soave
Orvieto
CALIFORNIA
Sauvignon Blanc Private Selection, Robert Mondavi
AUSTRALIA
Chardonnay, Nottage Hill
Chardonnay / Semillon, Stamp
NEW ZEALAND
Marlborough Sauvignon Blanc, Monkey Bay
CHILE
Mapu Reserva Chardonnay, Baron Philippe de Rothschild
Wine
Red Wines
FRANCE
Chateau Rolland-Mallet, St.Emillion Grand Cru
Reseve Mouton Cadet Medoc, Baron Philippe de Rothschild
Chateau Sainte Marie, Bordeaux Superieur
Mouton Cadet Bordeaux Rouge, Baron Philippe de Rothschild
Attitude Pinot Noir, Pascal Jolivet
Berger Baron, Bordeaux Rouge
CALIFORNIA
Oakville Cabernet Sauvignon, Robert Mondavi
Caymus, Napa Valley Cabernet Sauvignon
Lodi Zinfandel, Ravenswood
Cabernet Saubignon Private Selection, Robert Mondavi
Cabernet Saubignon, Rocky Creek
Australia
Shiraz, Leasingham Bin 61
Twins Barossa Shiraz, Maverick
Twins Barossa GSM, Maverick
Cabernet Sauvignon/Merlot, Madfish Sideways
Houghton, Cabernet Sauvignon
Shiraz, Banrock Station
Cabernet/Shiraz, Nottage Hill
Chile
Montes Alpha M, Santa Cruz
Montes Purple Angel Carmenere
Escudo Rojo, Baron Philippe de Rothschild
Alpha Cabernet Sauvignon, Montes
Limited Selection Pinot Noir, Casablanca and Leyda Valleys, Montes
Mapu Reserva Cabernet Sauvignon, Baron Philippe de Rothschild
Italy
Monte Faustino Valpolicella Superiore Ripasso DOC
Thai
Heritage Syrah, Granmonte 2010
White Wines
FRANCE
Pouilly Fume
Loire Valley
Pascal Jolivet
ITALY
Soave
Orvieto
CALIFORNIA
Sauvignon Blanc Private Selection, Robert Mondavi
AUSTRALIA
Chardonnay, Nottage Hill
Chardonnay / Semillon, Stamp
NEW ZEALAND
Marlborough Sauvignon Blanc, Monkey Bay
CHILE
Mapu Reserva Chardonnay, Baron Philippe de Rothschild
Champagne & Sparkling Wines
Selected House Wines
Moet Chandon, Brut Imperial
Pommery Brut Royal
Omni Methode Champenois
Breganze Prosecco Spumante
Robert Mondavi Woodbridge Zinfandel (USA)
Robert Mondavi Woodbridge Chardonnay
Hardy?s VR Shiraz (Australia)
Hardy?s VR Sauvignon Blanc
Taras Cabernet Sauvignon (Australia)
Taras Chardonnay
Champagne & Sparkling Wines
Moet Chandon, Brut Imperial
Pommery Brut Royal
Omni Methode Champenois
Breganze Prosecco Spumante
Selected House Wines
Robert Mondavi Woodbridge Zinfandel (USA)
Robert Mondavi Woodbridge Chardonnay
Hardy?s VR Shiraz (Australia)
Hardy?s VR Sauvignon Blanc
Taras Cabernet Sauvignon (Australia)
Taras Chardonnay